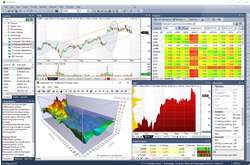 AmiBroker - advanced technical analysis software
AmiBroker is a full-featured technical analysis & trading system development platform, with an advanced real-time charting, portfolio back-testing/optimization and scanning capabilities. AmiBroker's robust system development environment allows to find market inefficiences, code the system and validate it using powerful statistical methods including walk-forward test and Monte Carlo simulation. AmiBroker allows you to trade directly from charts or programmatically, using auto-trading interface (works with Interactive Brokers). It gives everything you need to trade successfully. Just check out our quick features tour to find out what is included in this powerful software package.
The software comes in two editions: Standard Edition and Professional Edition. To learn about differences between editions click here. You can also purchase AmiBroker Ultimate Pack Pro which is a bundle of AmiBroker Professional Edition, AmiQuote and AFL Code wizard available at discounted price.
Single-user licenses
Standard Edition: $299
Professional Edition: $369
Ultimate Pack Pro: $499