February 11, 2015
If we have already downloaded several years of historical data using AmiQuote and for any reason we need to re-import this data once again (e.g. into a new database) – there is a way to avoid re-downloading the whole history.
AmiQuote stores all downloaded data files inside of the dedicated destination folder. The exact location can be checked from AmiQuote: Tools->Settings menu: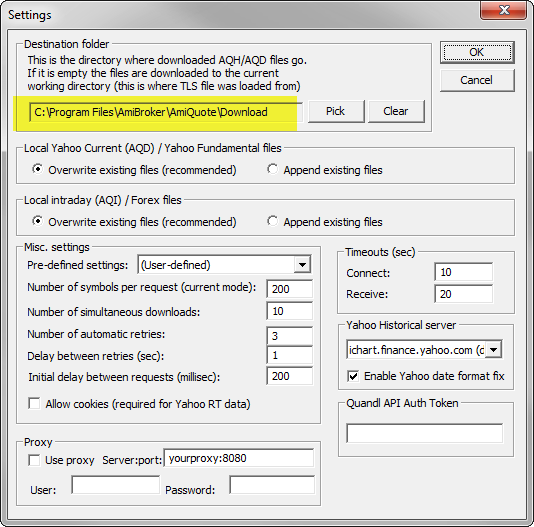 All recently downloaded files are stored in this folder and we can use ASCII importer in AmiBroker to pick these files manually for import. To do that please follow the steps below:
Select File->Import ASCII
In the open file dialog navigate to Download folder
From Files of type field pick correct import definition to match the source used in AmiQuote:

mark the .AQH files we want to import (to select all, it is enough to click on any of the files and hit CTRL+A, multiple file selection is also possible by clicking with CTRL or SHIFT keys pressed)
press Open button to start import procedure
It is important to remember that by default each new download via AmiQuote overwrites the earlier files, so the AQH files will contain quotes from the very last download for given symbol.
More information about using ASCII importer can be found here:
http://www.amibroker.com/guide/h_amiquote.html
http://www.amibroker.com/guide/d_ascii.html

Filed by Tomasz Janeczko at 4:46 pm under AmiQuote
Comments Off on How to re-import the same data without downloading them again