INSTRUCTIONS
To use DDE data plugin with AmiBroker you need to:
(optional *) Download the latest version DDE plugin from http://www.amibroker.com/bin/DDE.dll and copy it to PLUGINS subfolder of AmiBroker directory.
*Version 1.2.2 of DDE.DLL (Jun 7, 2007) is already included in AmiBroker 5.00 full setup

Enable DDE in the 3rd party software you are using as DDE server (consult data vendor/brokerage software documentation for details on how to enable DDE)
Run AmiBroker and create new database with "DDE universal data plugin" as a data source, following these steps:
Run AmiBroker
Choose File->New database
Type a new folder name (for example: C:\Program Files\AmiBroker\DDE ) and click Create as shown in the picture below:




Choose DDE universal data plugin from Data source combo and "Enable" from Local data storage
Enter 10000 or more into "Number of bars to load" field
Now choose Base time interval. Supported intervals are: EOD, hourly, 15-minute, 5-minute, 1-minute. Professional Edition of AmiBroker allows also to select Tick, 5-second, 15-second intervals.
Click CONFIGURE button - IMPORTANT: in the "CONFIGURE" dialog you have to setup all fields following the description of your data vendor.

Please check also paragraph below ("CONFIGURING DDE PLUGIN TO WORK WITH YOUR VENDOR") for detailed description. ATTENTION: you can not skip this part - without setting up fields specifically for your data vendor, the DDE WILL NOT WORK.



Click OK.
The Plugin status indicator should change from Yellow "WAIT" to Green "OK" within a few seconds. If it does not turn to "OK" state it means that either:
a) server name and/or fields are not set up correctly
or
b) DDE server (3rd party application) is not running or is not enabled
If indicator shows "OK" - then real time qutoes flow into AB. You can check it by displaying Window->Real time quote. Note: since there is no backfill you would need to wait for at least 3 bars of data to be collected before chart shows up.
CONFIGURING DDE PLUGIN TO WORK WITH YOUR VENDOR
Various data vendors come use different DDE connection strings, here a few typical exampels will be shown.
Most documentation of DDE uses Excel DDE syntax which looks as follows:=SERVER|TOPIC!ITEM

Server is a name of the DDE server such as WINROS, IQLINK, REUTER, CQGPC, MT, MTLink, etc.
Topic is the topic of DDE conversation. Depending on Data source topic may be just the ticker symbol (like in IQFeed), or the field name (like in winros).
Item is the item of DDE conversation. Depending on data source it can be field name (like in IQFeed) or ticker symbol (like in Winros).

So DDE connection string in two most common standards look as follows:

=WINROS|LAST!MSFT

=IQLINK|MSFT!LAST

Now DDE plugin configuration screen looks like this: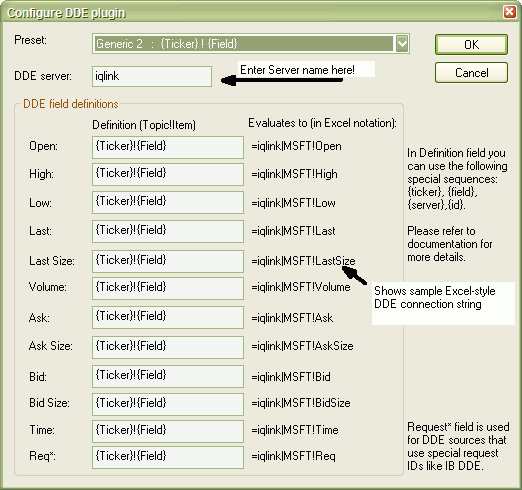 In the UPPER part of the dialog you can see "DDE Server" field. In this field you should enter SERVER part of DDE connection string (=SERVER|TOPIC!ITEM) without equation mark and without | character.
Below you can see 12 text entry boxes where you can define DDE topic and item for each data field your data source provides. Here you should enter TOPIC!ITEM pair of the DDE connection string (=SERVER|TOPIC!ITEM) with exlamation mark between DDE topic and DDE item.
As you can see in the picture above, DDE plugin allow you to use a few special strings, namely: {Ticker}, {Field}, {FieldSp}, {Server}, {Id} which are evaluated in run-time for each symbol separately allowing to construct dynamic DDE strings (depending on selected ticker for example) required by most data sources: